Seamlessly Secure, Effortlessly Powerful
Ultimate Crypto Hub
Store and manage all of your crypto with support for hundreds of tokens in one sleek and user-friendly wallet. No more juggling between multiple wallets and apps - Cropty's got you covered.
Unrivaled Privacy
Your privacy is our top priority. With enhanced privacy/anonymity options and a privacy-first approach, you can confidently manage your digital assets knowing your data is secure.
Fort Knox Security
Protect your digital assets with industry-leading security features, such as cold storage and full encryption, ensuring your crypto investments are safe and sound.
Stay Informed & Connected
Keep track of coin prices right in the multi-wallet and receive notifications about market changes. Plus, enjoy the convenience of logging in with email & social media and recovering wallets via email or phone number.
Lightning-Fast Transactions
Experience seamless and instant transactions with Cropty's Instant On and Zero Downtimes features. No more waiting for block confirmations - just smooth, hassle-free transactions.
Exceptional Customer Support
Get access to 24/7/365 live customer support, available in multiple languages, to assist you with any questions or concerns. At Cropty, we're always here to help you navigate the world of crypto.
Your Crypto Safe Haven
Wondering why Cropty Wallet is your ultimate choice for crypto security? Let us make it crystal clear for you:
Two Worlds, One Wallet
Get the perfect blend of self-custody control and managed financial service benefits, all within one ultra-secure wallet.
Crystal Clear & Hack-Proof
With Cropty's custodial solution, private keys are never stored on your device, making it virtually impossible for hackers to steal your precious crypto.
Two-Factor Transaction Shield
Every transaction requires 2-factor authentication, adding an extra layer of security to your funds.
No More Frozen Funds
Thanks to our cutting-edge custody approach, you won't have to worry about unexpected frozen transactions or withdrawals.
Stand Tall Against Exchange Hacks
With Cropty's unique architecture, you'll be far less likely to fall prey to exchange hacks and keep your funds secure.
Your Trusted Crypto Guardian
Rely on our active monitoring, identity verification, and managed services to support you in every step of your crypto journey.
Secure Your Crypto Assets with Cropty!
Trust Cropty Wallet's state-of-the-art security and enjoy peace of mind, knowing your crypto is safe and protected.
Access Cropty Wallet Anytime, Anywhere
Manage your crypto with ease on mobile and web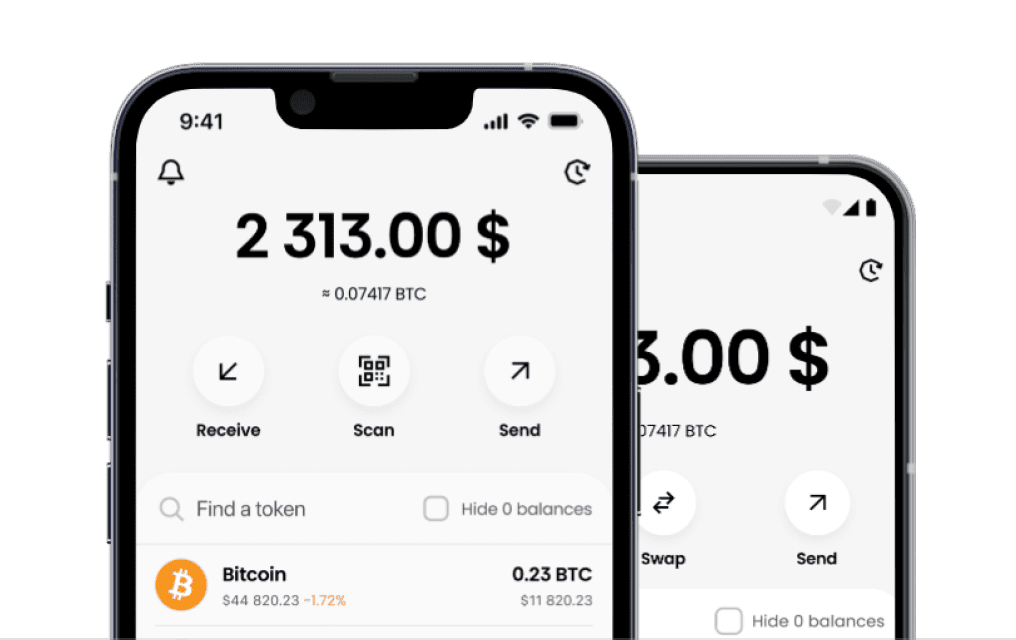 iOS & Android App's
Enjoy Cropty Wallet on your phone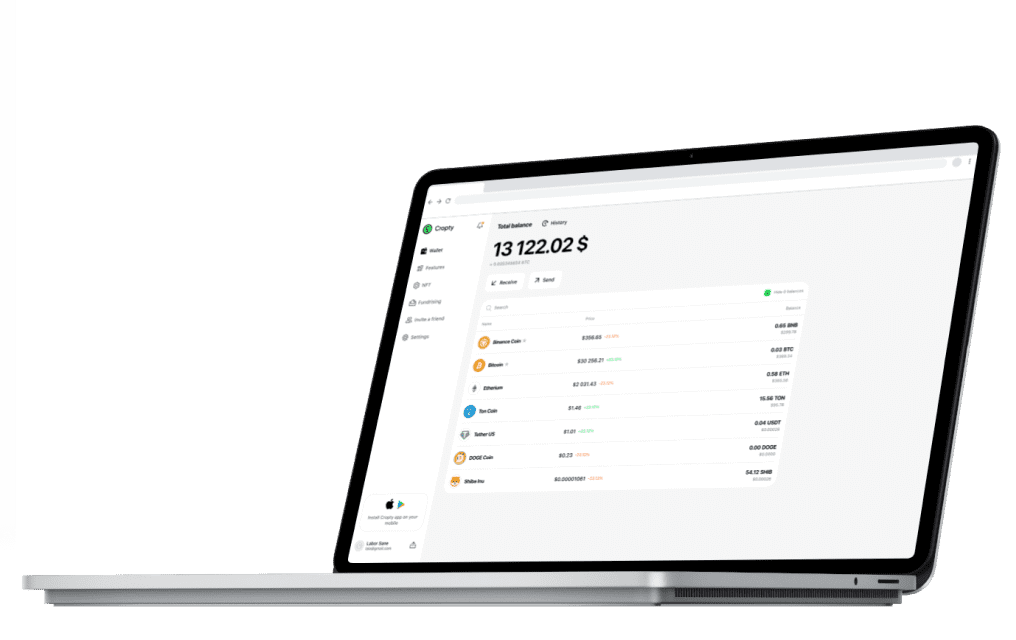 Web Platform
Access all wallet features right from your browser
Effortless Spending Control
Ever wanted to have a clear picture of your crypto spending and effortlessly manage your funds? Cropty Wallet is here to make it happen:
Crystal-Clear Transaction History
Keep track of every single transaction with our easy-to-navigate transaction history. Stay informed and in control of your spending like never before.
Smart Savings with Earn
Grow your crypto assets effortlessly by utilizing Cropty Wallet's Earn feature. Just send the crypto you don't plan on spending right away, and watch your funds grow.
Seamless Financial Management
Enjoy the convenience of having all your financial tools in one secure app. No more switching between platforms - Cropty Wallet keeps everything at your fingertips.
Master Your Crypto Spending with Cropty!
Lightning-Fast & Fee-Free Crypto Transfers
Send cryptocurrency to fellow Cropty users in a flash, without spending a dime:
Instant & Free Transactions
Enjoy blazing-fast transactions to other Cropty Wallet users without worrying about network fees. Experience the future of crypto transfers, today.
Cutting-Edge Side-Chain Technology
Leverage the power of side-chain technology to send your coins to other Cropty users instantly and completely free of charge.
Connect & Share with the Cropty Community
Strengthen your crypto network by seamlessly transferring digital assets to friends, family, and colleagues within the Cropty ecosystem.
Plus, invite them to join Cropty using your
referral link
and enjoy mutual benefits. They'll receive cashback on commission fees, while you'll earn rewards for every transaction they make on Cropty .
Unlock the true potential of crypto transfers with Cropty Wallet.
Speed, convenience, and affordability come together in perfect harmony.
Multi-Chain with Ease
Experience the simplicity of managing multiple networks and coins with Cropty Wallet:
All-In-One Multi-Chain Support
Access Bitcoin, Ethereum, Polygon, Tron, Binance Smart Chain, and many more networks in development, all from one powerful wallet.
Thousands of Assets at Your Fingertips
Send, store, lend and borrow a vast array of assets across multiple blockchain networks without breaking a sweat.
Seamless Cross-Chain Conversions
Let Cropty Wallet handle the hassle of converting tokens between networks. No need to worry about which network your token is on – we've got your back.
Simplified Multi-Chain Experience
Effortlessly navigate the world of multi-chain with Cropty Wallet, where diverse networks and assets come together in a user-friendly platform.
Cropty vs Other Wallets
Multi-device synchronization
Forgiving user experience
Referral & cashback program
Round-the-Clock Support
Enjoy unparalleled assistance from our dedicated Cropty Wallet support team, available 24/7/365 to help you overcome any challenges:
Always Here for You
Our friendly and knowledgeable support staff is available to assist you anytime, day or night, ensuring a seamless and stress-free experience.
Expert Guidance
Whether you're facing a technical issue or need help navigating the app, our team of experts is ready to provide prompt and effective solutions to all your questions.
Peace of Mind
With Cropty Wallet's committed support, you can confidently explore the world of cryptocurrencies knowing that help is just a click away whenever you need it.
Embrace Crypto with Confidence
The combination of Cropty Wallet's user-friendly platform and our exceptional support team empowers you to dive into the crypto universe with ease and assurance.
Join Cropty Wallet today and experience the difference of having a dedicated support team by your side, ensuring your journey through the crypto world is smooth and enjoyable.
Become a Crypto Guru
Unleash your inner crypto expert with Cropty Wallet's comprehensive insights and analysis features
Dive Deep into Crypto Knowledge
Get detailed information on various cryptocurrencies, including their history, objectives, and price trends, all within the user-friendly Cropty Wallet app.
Master Your Crypto Portfolio
Armed with data on different cryptocurrencies, manage your portfolio like a pro and make informed decisions to optimize your investments.
Keep up with the latest market trends and insights to identify potential opportunities and grow your wealth in the ever-evolving world of digital assets.
Embrace Your Crypto Expertise
With Cropty Wallet's in-depth analysis tools, you'll not only manage your crypto finances better but also become a knowledgeable crypto enthusiast.
Don't Just Take Our Word for It
A super super crypto wallet very fast transaction and easy to use wow😍 trustworthy. thank you for this application.
Nice app. I like the interface and how it is easy to use. Good job guys!
Very easy and simple to sign up
Eficiente. Funciona muy bien
É a única carretora excelente, fácil e rápido, muito obrigado a equipe
J'utilise ce portefeuille de crypto depuis longtemps et je suis très satisfait. Il est très simple et facile à utiliser.
Beautiful wallet. Great idea behind
Sangat mudah digunakan. Tetap jaga kualitasnya yaaa!!!
Best usdt wallet in the word
Consiglio quest'applicazione per chi vuole fare trading sicuro senza il rischio di perdere i soldi
My Bitcoins are safe now. 😁
Çox sadə ve rahat bir proqramdı.
How to use crypto wallet
Get ready to become a pro at using crypto wallets with our three-part guide! Learn how to set up a crypto wallet, understand how it works, and master its use with our comprehensive articles. From choosing the right wallet to keeping your digital assets secure, we've got you covered. Don't miss out on this essential guide to mastering crypto wallets!
How to use crypto wallet
Discover the different ways you can use your crypto wallet to store, send, and receive digital currencies.
Stay in the Loop with Cropty Updates
Don't miss a beat – subscribe to Cropty's newsletter and receive the latest news, updates, and exclusive offers straight to your inbox.

Stay informed and ahead of the curve in the ever-evolving world of crypto. Simply enter your mail address and join the Cropty community today!
FAQ
Why should I use Cropty Wallet?
Cropty Wallet offers a user-friendly and secure platform to manage your crypto assets. With features like multi-chain support, automatic token conversion, 24/7/365 customer support, and a referral program, Cropty Wallet makes it easy to get started and enjoy a seamless experience in the crypto world.
How is Cropty Wallet better than other wallets?
Cropty Wallet stands out with its cutting-edge security, seamless cross-chain conversions, custodial features, a built-in crypto academy, and round-the-clock customer support. The wallet also offers a referral program and cashback, making it an all-in-one solution for your crypto needs.
Which networks does Cropty Wallet support?
Cropty Wallet supports multiple networks, including Bitcoin, Ethereum, Polygon, Tron, and Binance Smart Chain. Our team is constantly working on adding support for more networks to provide you with the best possible experience.
Do I need a browser to use Cropty Wallet?
No, you don't need a browser to use Cropty Wallet. Our app is available for mobile devices, allowing you to manage your crypto assets anytime and anywhere with just a few taps on your smartphone or tablet.
Does Cropty Wallet automatically sync between devices?
Yes, Cropty Wallet automatically synchronizes your data between devices. Just log in to your account on any device, and our wallet and transaction history will be instantly available.
Can I earn money with Cropty Wallet?
Absolutely! Cropty Wallet offers a referral program that allows you to earn rewards for inviting friends and family to join the platform. Additionally, the wallet's built-in Earn feature lets you accumulate funds by sending unused cryptocurrencies to it.
Is Cropty Wallet safe and secure?
Yes, Cropty Wallet prioritizes security by employing a custodial solution that keeps private keys off user devices, thus reducing the risk of hacks. Moreover, every transaction requires two-factor authentication for added protection.
Can I track my crypto transactions in Cropty Wallet?
Yes, Cropty Wallet provides you with a comprehensive transaction history to help you monitor your spending and make informed decisions about your crypto portfolio
How do I get started with Cropty Wallet?
To get started, simply download the Cropty Wallet app on your mobile device, create an account using your email address or mobile phone number, and follow the on-screen instructions to set up your wallet.