What is Cropty Crypto Loan?
Cropty Crypto Loan is a secure, overcollateralized, and flexible loan product. Users can take loans by pledging their crypto assets as collateral. With Cropty, you don't have to worry about rehypothecation since we don't lend out your collateralized crypto to others.
Unlock Endless Possibilities
With Cropty's Crypto-Backed Loans
Big Buys Made Easy
Why not put that cash to work? Renovate your pad, get that shiny new ride, fund your education, or treat yourself to the vacation of your dreams.
Tax-Smart Moves
By using your Instant Crypto Credit Line, you can dodge taxable events that might happen when selling your digital assets. Smart, huh?
More Crypto, More Fun
Double down on your crypto game! Collateralize your existing assets, and invest in other digital goodies, stocks, gold, or even real estate.
Boost Your Biz
Grow your business without parting ways with your crypto. Cover those pesky operational costs, keep your employees happy, or seize that once-in-a-lifetime opportunity.
Real Estate Ventures
Diversify into real estate, snag your dream home, invest in rental properties, or fund home improvements – faster than traditional lenders.
Debt-Busting
Wave goodbye to high-interest credit card debt and simplify your life with just one loan. Plus, no credit checks required!
Crypto Loan Calculator
Crunch the Numbers and Discover Your Loan Potential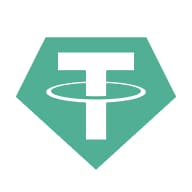 FROM $1 TO $1M
Available for borrowing
80% LTV
High Loan-to-Value (LTV) Ratios
Instant Approval & No Credit Checks
Enjoy a hassle-free application process with instant approval and no invasive credit checks, making it easy for anyone to access our Crypto Loans.
Flexible Repayment Terms
Experience true financial freedom with our flexible repayment terms, including no monthly repayments, no statement deadlines, and no late fees, letting you repay at any time without penalties.
Secure Custody & Storage
Trust our robust security measures, including custody secured by Ledger Enterprise, to keep your crypto assets safe throughout the lending process.
Zero Hidden Fees
Save more with Cropty's transparent fee structure – no transaction fees, no origination fees, and no hidden charges, ensuring a cost-effective lending solution.
How to Get Started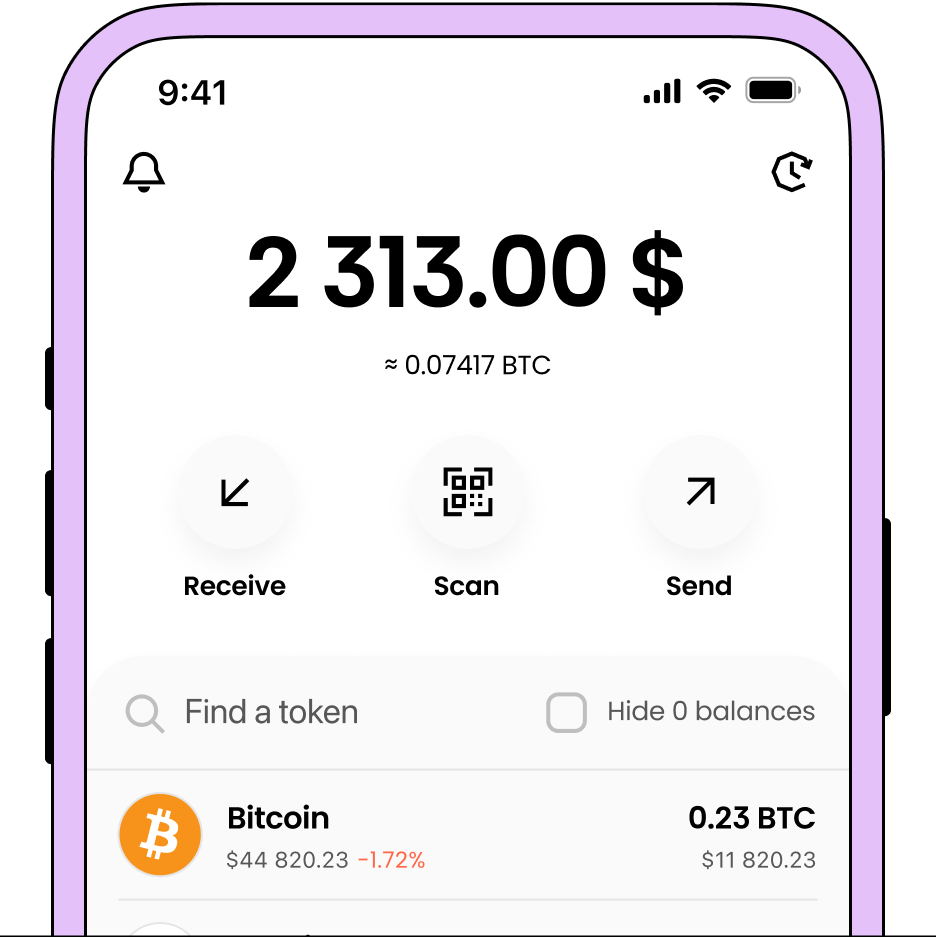 Deposit Crypto Collateral
Fund your wallet with the cryptocurrency you plan to use as collateral for your loan.
Create Your Loan
Navigate to the "Features" tab, then "Loans", and open a new loan by selecting your collateral and desired loan amount.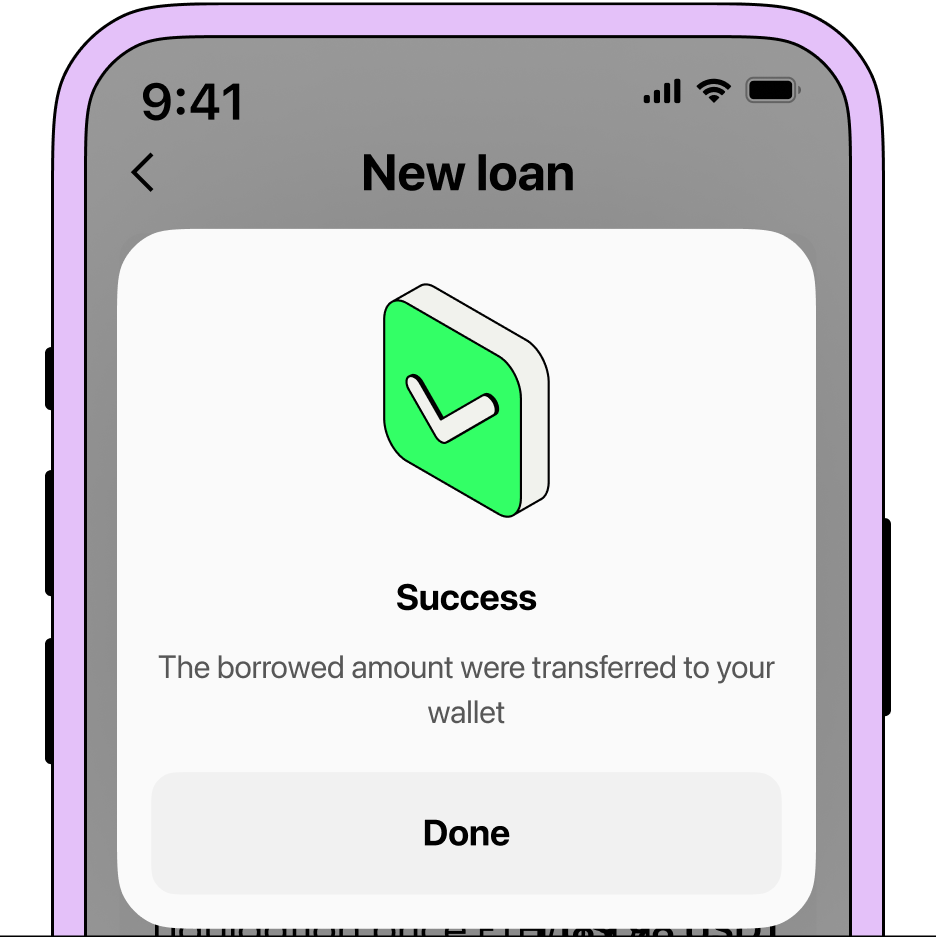 Instant Funding
Receive the loan amount in your wallet instantly, and use the funds however you please.
What is Cropty Crypto Loan?
Crypto Loans at Cropty, or loans backed by cryptocurrency, are a type of financial service that allows borrowers to obtain funds instantly by using their digital assets as collateral. Cropty's unique approach enables individuals to access liquidity without having to sell their cryptocurrencies, thus avoiding potential tax implications or loss of future appreciation.
Here's a step-by-step breakdown of how Crypto Loans work at Cropty:
Register on Cropty
First, you need to create an account on the trusted and reputable Cropty platform, which offers instant Crypto Loan services.
Deposit collateral
To obtain a Crypto Loan, you must deposit an amount of cryptocurrency as collateral. Cropty will securely store your digital assets for the duration of the loan. The amount of collateral required will depend on the Loan-to-Value (LTV) ratio, which is the proportion of the loan amount relative to the value of the collateral.
Loan approval
Once your collateral has been deposited, Cropty will assess the LTV ratio and instantly approve the loan without any credit checks, making it accessible for a wide range of borrowers.
Receive funds
After loan approval, you'll receive the funds in your designated account. Cropty only provides loans in the form of USDT (Tether), a stablecoin pegged to the US Dollar.
Flexible interest payments
During the loan term, you're not required to make regular interest payments. Instead, interest accrues over the loan duration, providing you with flexibility in managing your financial obligations.
Loan repayment
You can repay your loan at any time without incurring penalties. Once you've returned the borrowed USDT amount plus any outstanding interest, your collateral will be released back to you.
Defaulting and liquidation
If the value of your collateral falls below a specified threshold, Cropty may issue a margin call, requesting that you deposit additional collateral to maintain the LTV ratio. If you're unable to meet the margin call, Cropty may liquidate a portion or all of your collateral to recover the loan amount and any outstanding interest.
Crypto Loans at Cropty provide a flexible and instant financing solution for individuals looking to leverage their digital assets without having to sell them. As more people recognize the potential of cryptocurrencies and their role in the global financial ecosystem, Cropty's innovative financial product continues to gain popularity.
Crypto loans vs Conventional Loans
Instant Crypto Loans
Conventional Loans
Lower Rates, More Savings
Instant Crypto Loans
Conventional Loans
Skip the Origination Fees
Instant Crypto Loans
Conventional Loans
Instant Crypto Loans
Conventional Loans
Ditch the Monthly Repayments
Instant Crypto Loans
Conventional Loans
No Waiting, Just Instant Approval
Instant Crypto Loans
Conventional Loans
Instant Crypto Loans
Conventional Loans
Keep Your Credit Score Untouched
Instant Crypto Loans
Conventional Loans
Collateral Freedom
From Bitcoin to altcoins, our diverse range of supported assets provides you with the freedom to choose the perfect collateral for your loan
Bitcoin
Get $21971 for 1 BTC
Ethereum
Get $1326 for 1 ETH
Dogecoin
Get $493 for 10000 DOGE
Aave
Get $527 for 10 AAVE
Avalanche
Get $747 for 100 AVAX
Binance USD
Get $801 for 1000 BUSD
Bitcoin Cash
Get $188 for 1 BCH
Cardano
Get $210 for 1000 ADA
ChainLink
Get $602 for 100 LINK
Chiliz
Get $483 for 10000 CHZ
Cosmos
Get $578 for 100 ATOM
Cronos
Get $402 for 10000 CRO
Dai Stablecoin
Get $808 for 1000 DAI
Decentraland
Get $246 for 1000 MANA
EOS
Get $484 for 1000 EOS
Ethereum Classic
Get $128 for 10 ETC
Filecoin
Get $265 for 100 FIL
Flow
Get $357 for 1000 FLOW
Huobi Token
Get $191 for 100 HT
Immutable X
Get $459 for 1000 IMX
Litecoin
Get $528 for 10 LTC
Maker
Get $1173 for 1 MKR
NEAR Protocol
Get $883 for 1000 NEAR
Polkadot
Get $328 for 100 DOT
Polygon
Get $459 for 1000 MATIC
Quant
Get $709 for 10 QNT
Ripple
Get $410 for 1000 XRP
SHIBA INU
Get $582 for 100000000 SHIB
Tezos
Get $540 for 1000 XTZ
The Sandbox
Get $245 for 1000 SAND
TON Coin
Get $132 for 100 TON
Tron
Get $704 for 10000 TRX
TrueUSD
Get $799 for 1000 TUSD
Uniswap
Get $353 for 100 UNI
USD Coin
Get $800 for 1000 USDC
VeChain
Get $137 for 10000 VET
Zcash
Get $220 for 10 ZEC
Track Your Loan in a Wild Crypto World
Cropty's got your back in the ever-volatile crypto market, helping you keep a close eye on your loan's health and stay in control with some cool features: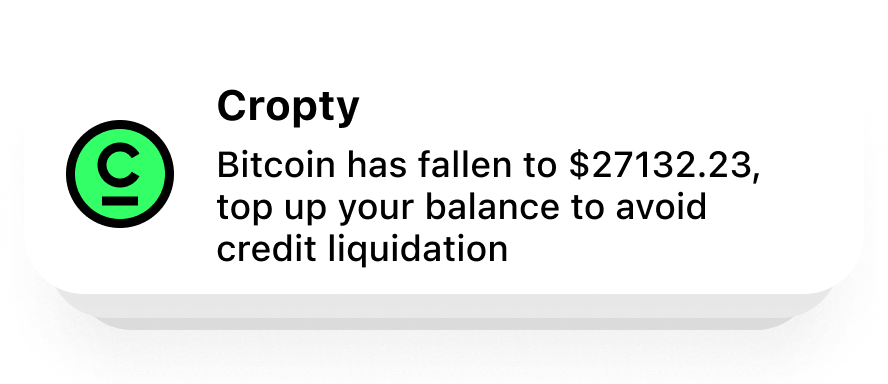 Margin Call Heads-Up
Crypto market got you on your toes? No worries! We'll send you timely margin call alerts, so you know when it's time to top up your collateral or repay a part of your loan.
LTV at a Glance
With our super visual LTV indicators, you can effortlessly keep tabs on your Loan-to-Value ratio, making smart decisions on the fly.
Repay or add Collateral Whenever
Flexibility is the name of the game. Top up your collateral or make additional payments anytime to dodge liquidation and keep your loan secure.
Don't let market swings catch you off guard. Stay safe and in control with Cropty's advanced loan management tools.
FAQ
What is Cropty Crypto Loan?
Cropty Crypto Loan is a secure, overcollateralized, and flexible loan product. Users can take loans by pledging their crypto assets as collateral. With Cropty, you don't have to worry about rehypothecation since we don't lend out your collateralized crypto to others.
How do I pledge my assets and start borrowing with Cropty Crypto Loan?
To start, choose the crypto you'd like to pledge as collateral and the amount you'd like to borrow. Ensure you have sufficient crypto assets in your account to cover the required collateral. Once the process is complete, your collateral will be locked, and the loan will be transferred to your account.
What is LTV, and how much can I borrow from Cropty Crypto Loan?
LTV (Loan-to-Value) represents the ratio between the value of the loan plus accrued interest and the value of your collateral. The LTV percentage determines how much you can borrow based on the collateral you pledge. For example, with a 50% LTV, if you pledge 1,000 USDT, you may borrow up to 500 USDT worth of assets.
Are there limits to how much I can pledge and borrow?
Yes, there are limits for each cryptocurrency. The maximum amount you can pledge or borrow depends on the specific crypto and may change periodically.
What is loan liquidation, and what is the liquidation LTV?
Loan liquidation occurs when the current LTV exceeds the liquidation LTV, which may happen if the collateral's value decreases or the loan's value increases. If liquidation occurs, you may lose some or all of your collateral.
What happens when a loan is liquidated?
When liquidation occurs, the outstanding loan amount will be repaid using the equivalent value of collateral. A partial liquidation happens when the liquidation doesn't fully cover the outstanding loan, and a full liquidation occurs when the entire loan is repaid using the collateral.
What is a margin call?
A margin call is a warning issued when your collateral-loan pair position reaches its margin call LTV. You can take action by adding more collateral or reducing the outstanding loan to lower the LTV.
Will I be notified in the event of margin calls or liquidations?
Yes, Cropty will send notifications via email and SMS in case of margin calls or liquidations. However, timely delivery of these notifications cannot be guaranteed.
What interest rate applies to my loan?
Cropty provides transparent interest rates for each cryptocurrency. Please refer to the platform for up-to-date interest rates.
How is interest accrued for my loan positions?
Interest accrues based on the total outstanding loan amount and the prevailing APR. The interest accrued is added to the total outstanding loan.
How do I repay my loan or adjust my LTV?
Use the 'Repay' or 'Adjust LTV' options in your account to repay loans or adjust collateral, respectively. You can only repay your loan using the same cryptocurrency you borrowed.
Which cryptocurrencies can I pledge or borrow on Cropty Crypto Loan?
Cropty Crypto Loan accepts a variety of cryptocurrencies as loanable and collateral assets. The list of available cryptocurrencies is updated periodically, so please refer to the platform for more information.
What can I do with the cryptocurrencies borrowed from Cropty Crypto Loan?
You can use the borrowed cryptocurrencies for various purposes, including trading, investing, or withdrawing from the platform. The collateral you pledge remains with Cropty as security for the repayment of your loan.